8 Different Types of Magnolia Trees
September 9th, 2022
Today, there are more than 130 species of magnolias distributed across the globe. However, I am going to tell you about a few of my favorite magnolia types. We propagate and sell almost all of these varieties and each one is special. This short description of each tree is divided into two groups. The Southern Magnolias (Magnolia Grandifloras Zones 6-10) and Magnolias for colder states (Zones 4-10 6A)
I've spent the better part of the past 25 years growing magnolia trees. We have used the beautiful branches and flowers serving our customers in so many different ways. We've harvested and shipped fresh magnolia blooms for weddings, we've made magnolia wreaths and sent them across the country (including the White House) and our team has even distilled down the flowers and seeds for use in making magnolia soap. However, my absolute favorite magnolia orbit to suspend myself in, is that of propagating and selling magnolia trees as gifts.
Many times these magnolia gift trees are sent as a memorial gift to honor the life of a loved family member or friend that has recently passed.  The reviews and stories we've received back to our professional staff inspire us everyday to grow more magnolia trees, to provide a little bit of hope to those who need it during their time of loss.  A beautiful magnolia gift tree is also a wonderful and thoughtful gift for a housewarming present, celebrating a newborn and even that milestone birthday gift.  
Magnolia trees are among the oldest of all flowering trees on earth. Fossils indicate they are over 100 million years old and they were pollinated by beetles, which is still happening today on our farm. Of course during the day we see many honey bees in the flowers collecting pollen, but during our night trips into the magnolia groves we see five or six different types of beetles inside the magnolia flowers doing their work visiting flower to flower.
All of the trees listed below are some of our favorites and can be planted in the landscape to be enjoyed for many years.
Southern Magnolias
Listed below are eight cultivars of Magnolia Grandiflora that are well known as great planting specimens.
DD Blanchard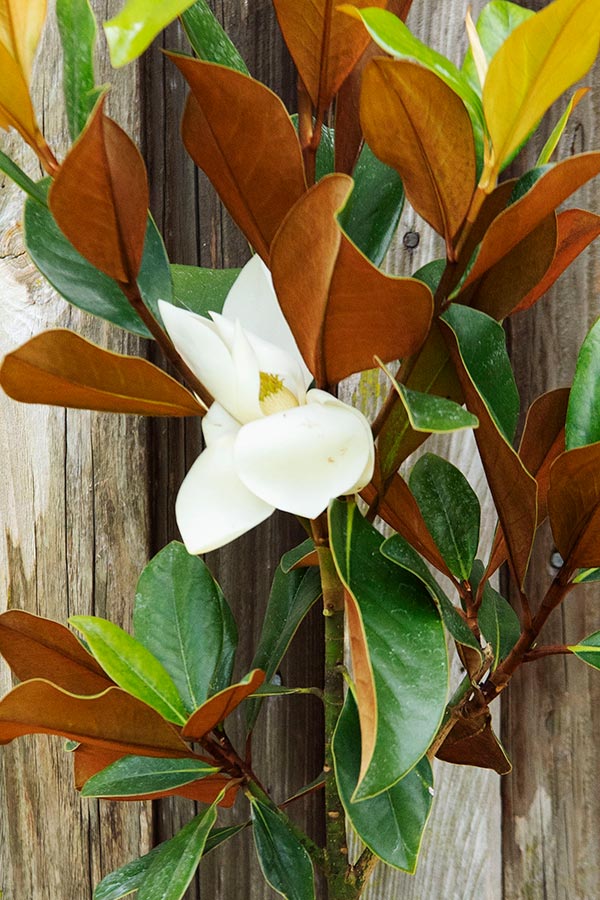 DD Blanchard is one of the larger growing southern magnolias and is famous for its deep red velvet undersides to the leaves. It is a fast growing tree eventually reaching 60 ft in height.
Little Gem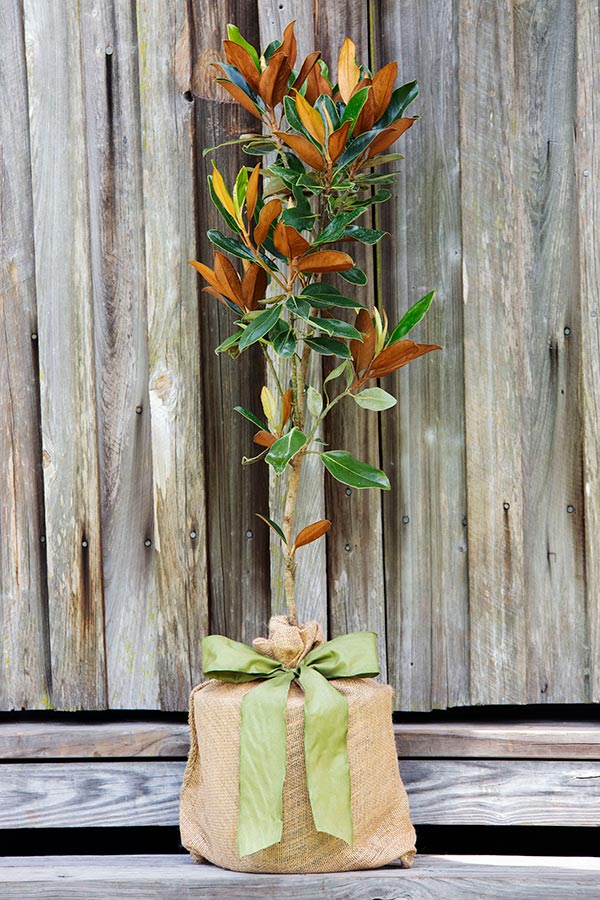 Little Gem is almost opposite of the previous listing. This small tree grows to a maximum of 25 ft. Little Gems have a huge amount of flower power, growing beautiful flowers from April to October. It is great for small spaces.
Bracken's Brown Beauty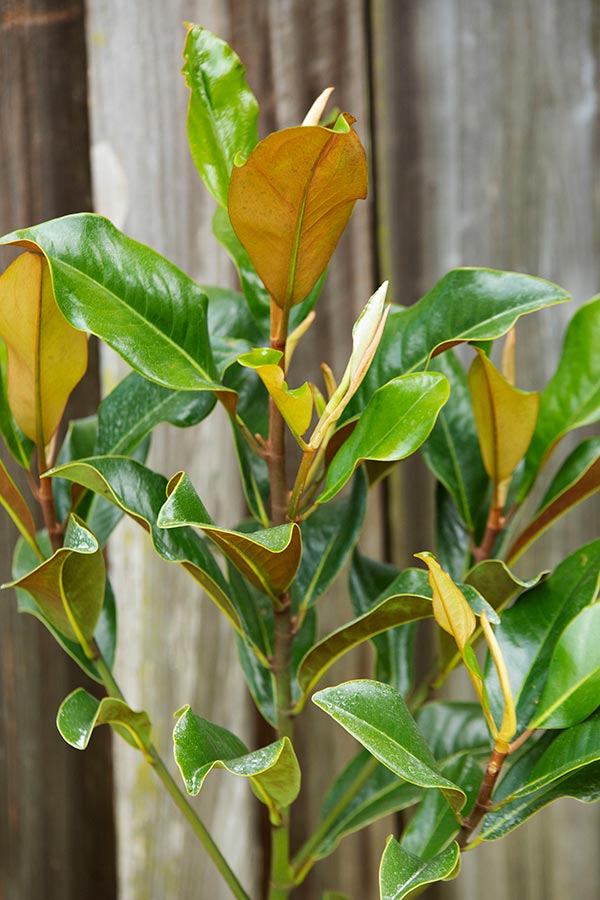 Bracken's Brown Beauty is a well known selection discovered by Ray Bracken of Ray Bracken Nursery. It will grow up to 40 ft tall and 20 ft wide. Its trademark is a base pyramidal habit with leaves that have a wavy leaf margin.
Teddy Bear
Teddy Bear is a newer Southern Magnolia tree discovered by William Head. This tree has been sold under the name of Southern Charm and even marveled as a Southern Living tree selection. It is a beautiful tree for tighter spaces and will grow to a maximum of 35 ft tall.
Kay Parris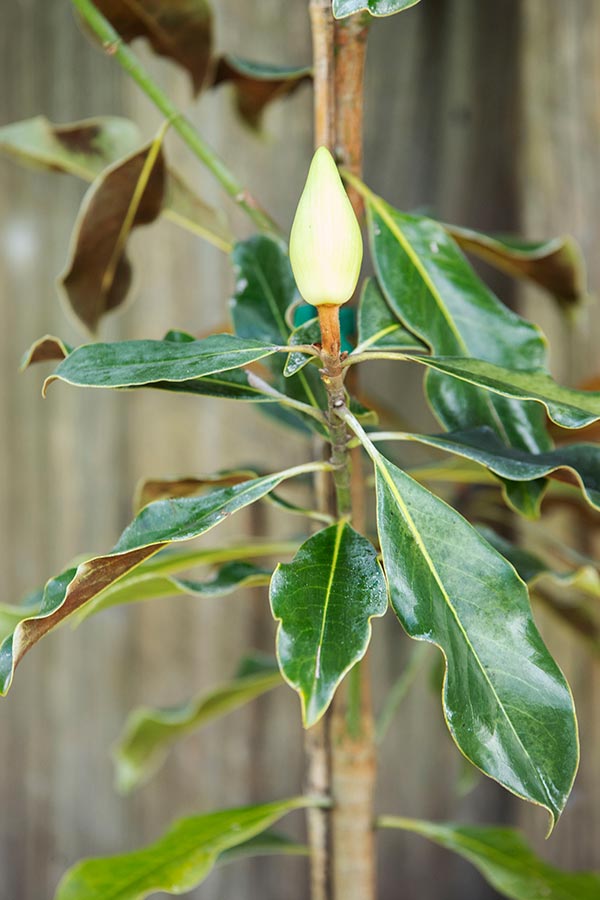 We started propagating Kay Parris from cuttings ten years ago. I must admit I am fond of this magnolia tree as it fits somewhere between a Little gem and a Bracken's Brown Beauty size wise. I think this is the most attractive tree in a container making it great for the front porch!
Claudia Wannamaker
Claudia Wannamaker is a classic Southern Magnolia commonly planted. It has medium sized leaves and blooms May – June making it a beautiful statement in any garden. The Claudia Wannamaker can reach a mature height of 50-60 feet.
Magnolias for Colder States
Two more magnolias that are beautiful flowering specimens for more northern climates are Saucer Magnolias and Magnolia Ann trees. These varieties are deciduous and transmit the announcement of spring with a beautiful show of magnificent flowers covered on every inch of the tree's branches!
Saucer Magnolia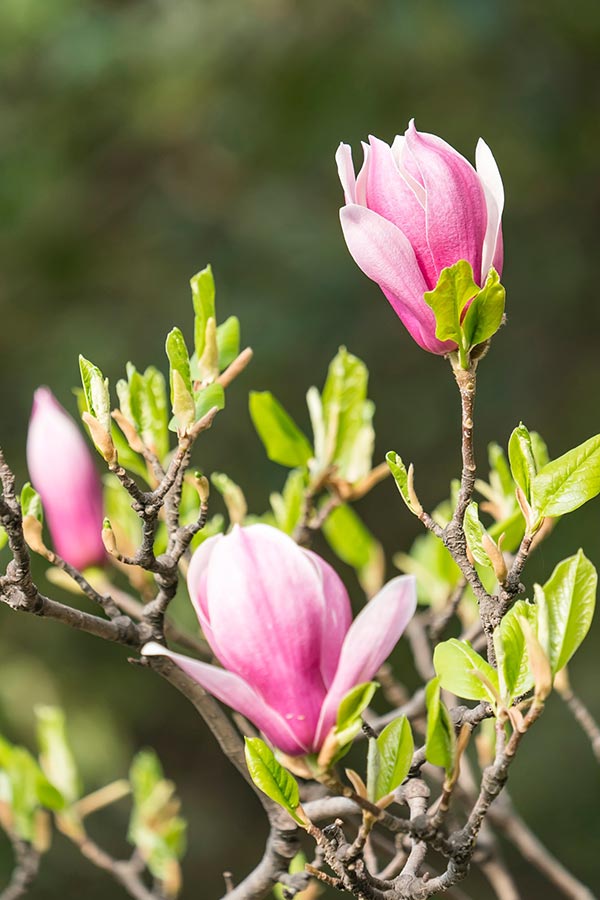 Saucer Magnolia, a.k.a Magnolia Soulangiana, is a broad spreading tree eventually reaching 20 ft wide by 20 ft tall. The cup-and-saucer flowers are white inside, flushed pink outside with purplish-pink at the base.
Magnolia Ann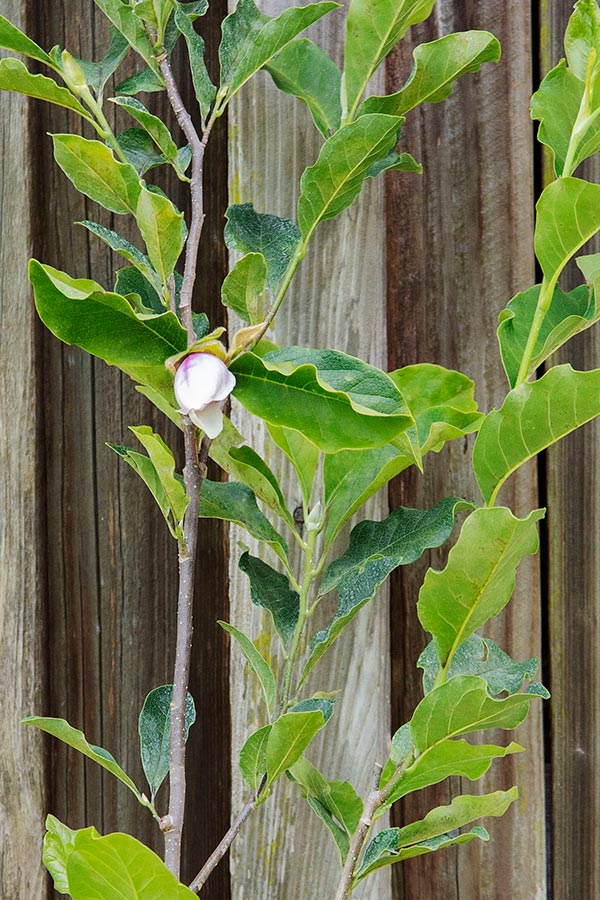 Magnolia Ann is a gorgeous and small tree rarely exceeding 15 ft tall. It is very attractive and hardy, growing in zones 3 to 8.  After losing its leaves in the winter, it also is a show stopper in spring with a profusion of light pink to pinkish white flowers lighting up the landscape.