Create a Container Garden in 3 Easy Steps
December 3rd, 2020
Let's say you've just been gifted a merry and bright bunch of magnolia, carolina sapphire and golden cedar for a holiday housewarming party or purchased an elegant pair of golden cedar bunches for your front door but aren't exactly known for your green thumb. You're in luck. You can still build a beautiful garden in planters, steel tubs, decorative boxes, and clay pots, otherwise known as container gardening, without the same time and effort as a full garden. Container gardening is ideal for beginner gardeners, those with little to no garden space, and anyone looking to add a wow factor to their existing garden.
Adding plants around your home not only adds a beautiful pop of color and life to any space, but some researchers even suggest there are added benefits to having plants, including increased productivity, improved concentration, and higher levels of creativity. So whether you'd like to learn more about how to container garden or get inspired by some of our favorite container gardening ideas, you're in the right place.
How to Create a Container Garden
Choose the right container
The first thing you'll need to do to begin your container garden is choose the right container for your plants. When selecting your containers' design, it is best to focus on the design of your home. If your home is a crisp white painted brick, you might think of choosing a classic ceramic planter pot in neutral colors like beige, white, or grey. If you have a rustic indoor style, you might consider a vintage metal pot. For a more modern or minimalist look, try a hammered copper flower pot or a geometric flower pot. No matter the container you pick, simply make sure it has the proper drainage abilities for your desired plant.

If you're looking to grow a tree like a lovely southern magnolia tree, a fruitful fig tree, or a snappy lime tree, it is wise to choose a heavier pot that won't blow over in the wind. Just make sure you consider the weight of your container, the soil, and the tree if you'll be creating your container garden on a balcony.


Prepare your container
Next, you'll need to prepare your container. As we mentioned earlier, you should make sure your container has holes on the bottom for proper drainage, but you don't want your soil falling out either. To avoid losing soil, you can place a paper towel or a sheet of newspaper at the bottom of your pot. When choosing your soil, it's best to steer away from regular garden soil because it can be too heavy. Instead, try using a houseplant soil mixture for containers smaller than one gallon and coarse soilless planting mixture for larger containers. Finally, make sure your soil is uniformly moist before planting.


Choose your plants
Once you've chosen the perfect container for you and your garden, you can begin picking your trees, flowers, bunches, and branches. This step is where you can get as creative as you like. Container gardens can be filled with multiple different types of plants and can range from flowers to foliage. Our favorite way to container garden is with bunches and branches as they can be enjoyed alone or added to fresh greenery. The wonderful thing about filling a container with whimsical Carolina sapphire bunches or hand-cut magnolia branches is that there is no soil required. You can craft a beautiful outdoor space without spending hours in your yard.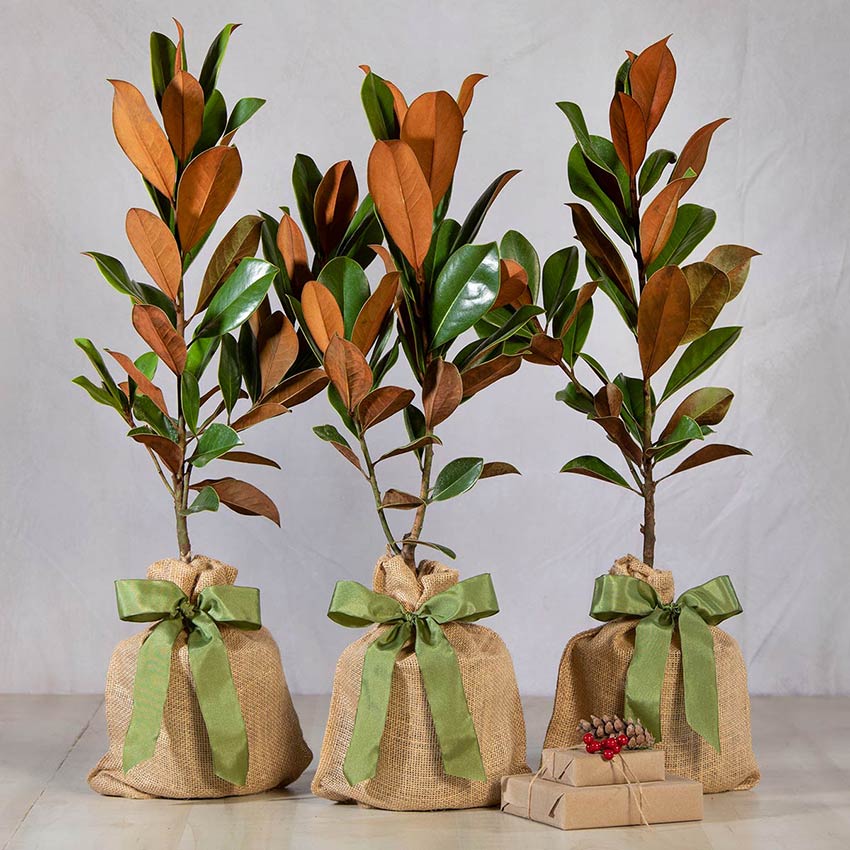 It's essential to choose a harmonious color scheme whether you want to fill your containers with foliage or flowers. Pinks, blues, and purples always add a bit of joy to any space, and light yellow and white flowers bring peace to any room. Besides choosing the right colors, you can also think about texture, height, shape, and leaf size. Instead of choosing plants that have identical textures, heights, and shapes, have fun with it! Choose plants that complement one another and create an overall beauty.
Have any other questions about building a container garden with trees, bunches, and branches from The Magnolia Company? You can contact us by clicking here. We would also love to see your creations and share them with our community! If you have a beautifully crafted container garden you'd like to share with the world, tag us on Facebook @themagnoliacompany or Instagram @the.magnoliacompany.
The Magnolia Company is a small family-run business located in Barberville, Florida, that ships high-quality magnolia wreaths, heart-warming gift trees, and other freshly-crafted decorations across the United States. We have been featured in HGTV, Southern Living, and The Oprah Magazine. You can learn more about our mission to create beautiful moments through beautiful decoration here.