How To Protect Your Magnolia Trees During the Winter
February 1st, 2021
If you've been following us on Facebook or Instagram, you might've seen a recent video sharing how we prepare our wreaths every winter for the fall. Hundreds of fresh wreaths are placed in our barn to dry out so that they can be decorated for our fall collection. Some of these wreaths will be decorated with colorful turkey & pheasant feathers and magnolia seed pods to become our best-selling Turkey Pheasant Wreath, others will simply get a thin coat of light green lacquer for the natural look of our Greenery & Velvet Wreath. But after the holiday season, we aren't just busy preparing our wreaths for the fall season, we're also busy making sure our magnolia trees continue to grow strong and happy during the winter.
While Magnolia trees are pretty hardy, there are a few things you can do to keep your Magnolias protected during the winter season. So, today we wanted to answer all of your winter care questions as we get into the thick of winter. Proper care for Magnolia trees through the winter can be accomplished with several different techniques. You need to ask yourself a couple of questions. First, what type of magnolia tree do I have planted in my landscape? If it is a deciduous Magnolia like a Magnolia Ann, Jane or Star Magnolia tree, then you do not need winter care unless you are located in a zone 4 or colder because these are very cold hardy.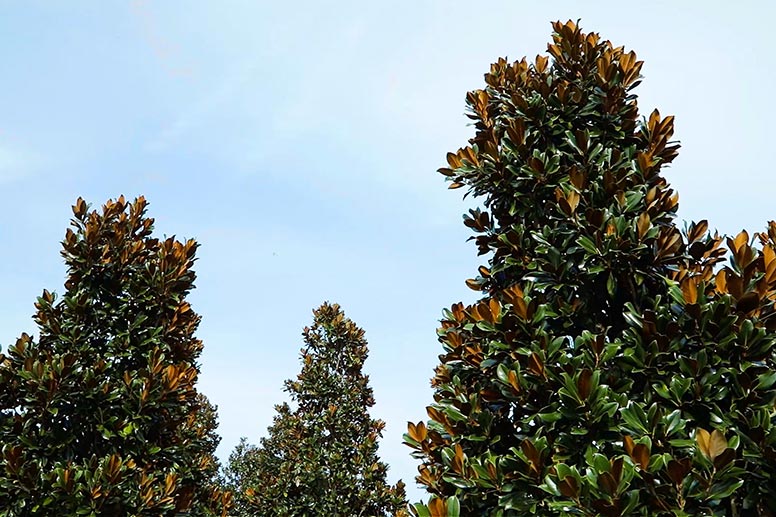 As soon as you know which type of Magnolia tree you have, keep reading to learn everything you need to know about protecting your Magnolia trees during the winter.
In what zones can you plant a Magnolia tree?
Magnolia trees like the Magnolia Ann, Magnolia Jane, and Start Magnolia tree are very cold hardy and do not need winter care unless you are located in a zone 4 or colder. If you have a Southern Magnolia, which is an evergreen tree, you will need to protect it in the winter if you live in zones colder than zone 7.
What is the Magnolia tree temperature tolerance?
The Magnolia tree will survive in colder climates, but if winter temperatures drop between 20 to -10° F damage or mortality can occur. You should consider protecting your tree once it gets to be 20 F, but damage generally occurs below 0° F.
How do I protect my Magnolia tree against the cold?
If you live in a zone 4 or colder and you are facing a severe freeze you can protect your tree by wrapping the trunk and branches with blankets and mulching the top of the root ball to insulate any shallow roots. One technique which will take a bit of time and should be completed before the end of December is to put 3 or 4 tall stakes around the tree.
The stakes will provide a frame to wrap burlap and then fill the void with leaves for insulation. Make sure the stakes are 18″ away from the branches. The stakes should extend several feet above the top of the tree. Circle the outside of the stakes with two layers of burlap and secure the burlap to the stakes using plastic zip ties. Burlap can be purchased in 3 foot wide rolls. The final step is to add dry leaves and pack around the branches and tree trunk.
Most importantly, before planting select a protected site from the harsh winter elements that can still get a lot of sunlight in the spring and summer. Southern Magnolia trees are evergreen so their leaves will stay on and leaf out with beautiful large deep green leaves during the winter.
Why are my Magnolia leaves turning brown?
If you live in zone 7 or colder make sure your tree is not too dry going into the winter. If the root system is too dry in the winter and a hard freeze occurs with heavy winds, the leaves will become burned because they are transpiring water faster than they bring up water from the root system. This will most likely cause your Magnolia leaves to turn brown.
This is especially true with young magnolia trees 3 years old and younger because their root system is shallow without roots down deep to bring up water. This magnolia "leaf scorch" can be remedied by making sure your magnolia grandiflora is not too dry by adding water during the fall and early winter.
How should I care for my Magnolia tree in the spring?
Once winter has ended we do like to examine our trees to see what type of pruning we need to start before the spring growth occurs. This sequence we will cover in a future blog and we'll be happy to share that information along with our recommended fertilizer plans to grow beautiful Southern Magnolia Trees.
If you have any other questions, reach out to our team on social media or you can contact us here. The Magnolia Company is a family-owned farm that creates timeless magnolia products, fresh magnolia wreaths, and grows beautiful gift trees.