Kids and Nature: The Benefits of Time Spent Outdoors + Our Favorite Nature Activities
September 26th, 2022
On Earth day, we had a wonderful opportunity to connect children with nature. We visited a fourth grade classroom, where we taught the children about how trees grow and how to grow a tree of their own.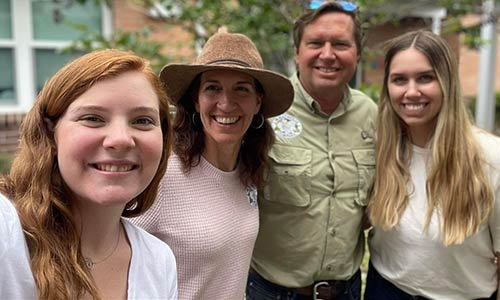 We're always looking for ways to spread our love of the environment and to give back to our community, so we were grateful to connect with a local teacher and bring a piece of our farm into the classroom.
For our activity, we brought one Growing Tree Kit for each of the students. But this is also an activity you could do at home with your children.
First, we gave the students the box our Growing Tree Kit comes in so that they could draw some nature-inspired imagery and Earth Day-inspired pictures on their box to make it their own.
Then the children moved around the room in small groups. They were able to get their hands dirty by filling their bags with potting soil and our daughter Mary showed the squiggly worms from our compost pile at home. Some were brave enough to hold the slimy wiggly creature!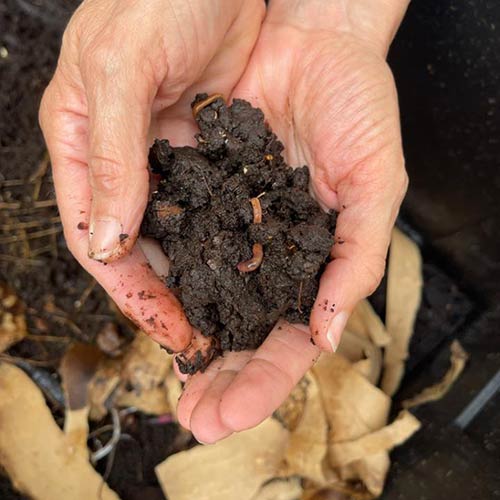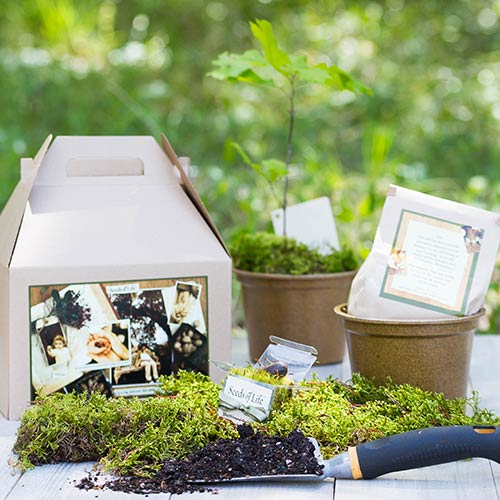 At Matt's station the kids' eyes were filled with wonder as they tasted the honey produced from the magnolia trees grown on our farm. Matt had them hold the seed pods, smell the bloom and taste the honey.
Then, in the last station, we explained how to care for their tiny seed that would soon become a tree.
Finally, they looked through the numerous books about trees. It was such a delight to hear their amazement with the size of the trees pictured because you know the best time to plant a tree is today!
If you're looking to recreate this activity all you'll need is:
A pot
Potting soil
Any type of seed
Then, simply guide your child through how to put the soil into the pot and the seed into the soil. It's a perfect time to share how things grow or pair with a nature-related book.
Reasons Why Nature is Important and How It Affects Children's Development
The great thing about an activity like the one we did with the fourth graders is it's not only fun, but it's also good for them!
There have been multiple studies conducted about the importance of getting kids out in nature. In a study conducted on residents of Denmark, researchers used satellite data to assess people's exposure to green spaces from birth to age 10 and compared it with their current mental health.
The researchers examined data on more than 900,000 residents born between 1985 and 2003. They found that children who lived in neighborhoods with more green spaces had a lower risk of developing many psychiatric disorders later in life, including depression, mood disorders, schizophrenia, eating disorders and substance use disorders. People with the least exposure to green spaces as children were 55% more likely to develop mental illness than those who grew up in green spaces.
So it's especially important to get your kids outside in nature if you don't live near any green spaces. But, even something as simple as getting your kids to dig around in dirt has been shown to reduce anxiety and stress levels in children.
Here are a few other benefits to getting your children outside:
Being outdoors provides a healthy exposure to vitamin D, which promotes bone health and helps minimize issues related to diabetes and heart disease.
Nature-based learning and education has been shown to increase a child's academic performance and their critical thinking.
Green spaces near schools can promote cognitive development in children and green views near children's homes have been seen to promote self-control behaviors.
As you can see, interacting with nature is important in the mental and physical health of children. But it is also important for kids to be able to explore, be creative, and learn more about the world around us.
Getting your Kids Excited about Nature
Now that we've talked about some of the benefits of getting children in nature, let's dive into a few fun nature-related activities for children.
When our kids were little, we were always looking for ways to get them excited about nature. From taking nature walks to growing our own avocado trees to a day at the beach, we always tried to make nature a part of our day. If you're looking to teach kids about nature so they can appreciate the environment and spend more time outside, here are some of our favorite tips.
Get them involved in habitual outdoor activities like gardening, hiking, fishing, or rock climbing. If your kids can find a hobby around an outdoor activity it will make spending time outdoors that much easier. We've always had a garden and it was a great way to help our kids get their hands in the dirt. Other options might be doing outdoor activities like hiking, fishing or rock climbing together as a family.

Take your kids on a walk in your neighborhood and point out plants along the way. A nature walk doesn't have to mean getting in the car to your nearest park. You'll be surprised by how much nature there is right in your neighborhood. A nature walk not only helps kids get a little bit of exercise, but you never know what you'll find!

If you're looking to bring your nature walk to the next level, try a scavenger hunt. You can create a list of local plants and animals and see how many you can find on your walk. It might take a little while to find them all, but looking for that one rare bird or flower will make a nature walk all the more fun!
Overall, there are a lot of benefits to getting your children outside. So we hope you are able to enjoy some of these nature activities together!