Our Favorite Thanksgiving Decor Ideas
November 10th, 2021
Since we celebrated Halloweeen last weekend, it's officially time to begin thinking about Thanksgiving decor ideas! The holiday season is a really busy one here on our farm because it's when we begin selling our fresh magnolia wreaths, swags, and garlands.
From mid-September to mid-March we'll harvest bunches of glossy green magnolia leaves for these fresh products, which are our best-sellers year after year. Magnolia has been used for decades, especially in the south, to decorate for the holidays and we think magnolia adds a touch of class and natural beauty to any holiday decor. Since we've been decorating for Thanksgiving with fresh magnolia products for the past two decades, we thought it would be fun to share some of our favorite Thanksgiving Decor ideas.
We'll not only share some of our classic magnolia Thanksgiving products, but also some unique Thanksgiving decorations that add a little something special to any space.
Gather Natural Materials from Your Backyard
Designing a beautiful Thanksgiving table setting doesn't have to mean multiple trips to home decor stores or emptying your pockets. A simple walk around the neighborhood or even your backyard can provide ample Thanksgiving decor. We are partial to magnolia seed pods, but pinecones, leaves, fruit/vegetables, and pine branches (or magnolia branches!) all make incredible additions to any Thanksgiving centerpiece.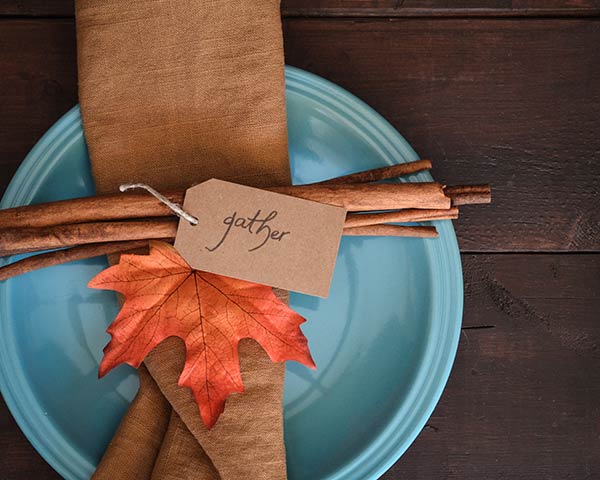 Hand-written name cards
A little bit of personalization can go a long way on a big, social event like Thanksgiving. If you're looking to add a little something special to your Thanksgiving table, we think little hand-written notes or name tags are a great choice. You can choose to include tags with on-theme vocabulary like "gather" or "grateful" or write the names of your guests. Little hand-written tags can also be added next to all of your dishes so that there is no mixing up sweet potato pie from pumpkin.
Magnolia wreath centerpiece
Magnolia wreaths don't always have to be for the front door! You can get creative with your centerpiece by using a wreath, like Mary from Home is Where the Boat Is did here. A little bit of magnolia goes really well with other natural decorations like the pumpkins, apples, and walnuts in this design. If designing a table setting isn't your strong suit or you're looking for something a little bigger, we also offer dried Thanksgiving centerpieces like this Merlot Valley Wreath. These handcrafted centerpieces add elegance in one simple step!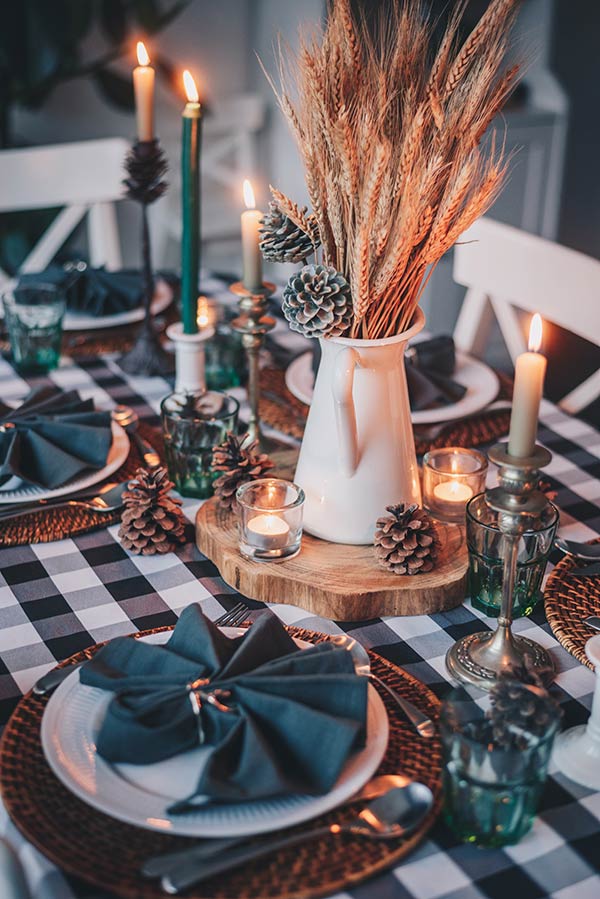 Focus on the details
Whether it's a specially folded napkin, fall-scented candles, or layering your table-setting with a tablecloth, placemat, and multiple plates, the little things can go a long way. Most people enjoy decorating for Thanksgiving, but you can really set your decor apart by focusing on the details. Something fun might be to choose a theme for your night and sprinkle it throughout the decor.
We are so excited to begin decorating for Thanksgiving and we hope you are too! If you have any questions you can always reach out to us by contacting us here.