Remembering Frank E. Underhill, Jr.
August 5th, 2021
From our start in 2001, our family business, The Magnolia Company, was held up by our parents Jean and Frank E. Underhill Jr..  As a branch of their original business, they guided us and supported us and without their help we would not exist today. It is with great sadness that our patriarch Frank E. Underhill, Jr. passed peacefully and was taken to heaven on June 14, 2021. He is now with his Lord and Savior Jesus Christ.
We shared about our father's passing on social media, but we wanted a permanent hommage to him here on our website with this blog post. Frank was a kind and loving person who served multitudes of people in many different areas of his life.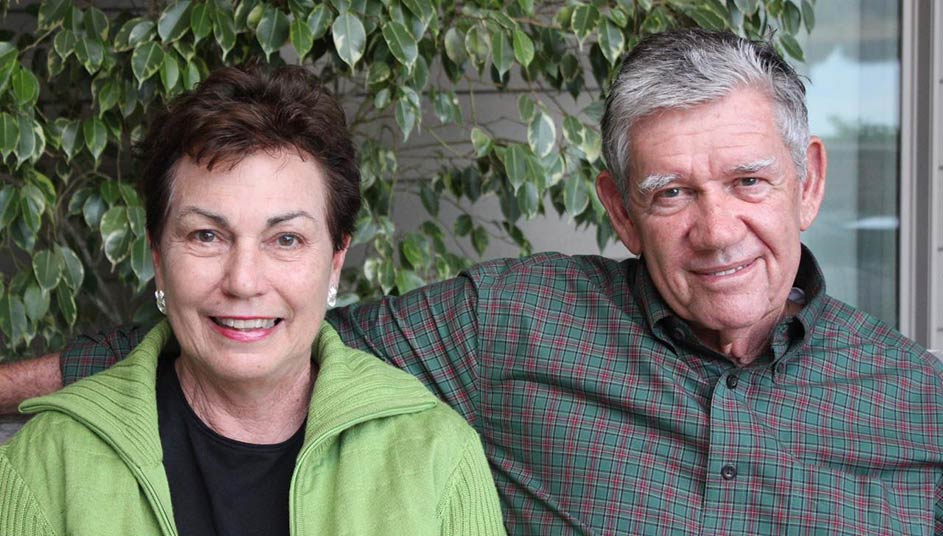 Frank was born April 5, 1941, in Barberville, Florida, where he spent his youth, until he attended DeLand High School in the 10th grade and met the love of his life, Jean. He graduated from Stetson University, where he played baseball, and also served in the Army in Berlin, Germany.
Frank's life was all about faith and family. He encountered the Lord on April 3, 1970, at 2:30 a.m., in his beloved St. Barnabas Episcopal Church. From there, his life's purpose became sharing the love of Jesus with everyone the Lord put in his path, until his final days. He considered his business Underhill Ferneries that he built with his wife, as his most influential ministry.  
Within this cut greens business, he was able to serve his customers and employees with excellence. Frank always desired to "under promise and over deliver" in a sense of quality and workmanship. He was always looking for a better way to serve his customers and provide a higher quality product.
This desire for excellence and to provide the highest quality cut greens for his customers drove him to build one of the largest, state of the art freeze protection systems in the industry. This elaborate and interconnected system protected millions of cut fern bunches through the coldest of winters by never running out of water no matter how cold or long the freezes lasted. These cut fern bunches were shipped across the country to some of the best wholesale floral houses in the United States, Europe, Canada and Japan.  
Frank was fond of and enjoyed meeting with his customers which was so natural for him. He was always quick with a joke and laughter and was great at making deep and lasting connections with them. Through these visits he developed many friendships with his clients as he genuinely cared for them and wanted to know them as a person not just as a customer.  
When Frank was among his cutting and harvesting crews in the toughest of conditions – cold, wet and rainy weather – he was most humbled by the work they performed in the service of the company. During these times he felt the closest with his crews and understood the need to buffer their discomfort by bringing them and serving everyone a hot cup of coffee or cocoa in the fields. This he would do by greeting them with a song, a joke or some other way to make them smile.  
Frank genuinely cared for them and wanted to know about them and their family. One of his favorite terms which we would hear often in the family business was "servant leadership" and it was most evident in these difficult times.
The past three years Frank has been in the business helping his two grandsons John Underhill and Frank Underhill, IV who actively and will continue serving the clients of Underhill Ferneries along with the dedicated team of those who continue serving in Frank's legacy.
But, he was a great example to all of us here at The Magnolia Company in manners of business as he connected to all people and relished being in a relationship with them where he genuinely cared for their well-being. Frank remembered to keep God first in his business and his generosity to all of those around him will be forever remembered.
Some of the other ministries Frank was dedicated to included St. Barnabas Episcopal Church, where he attended and served on the vestry, along with Young Life, Teen Challenge, prison ministry, the Men's Friday Prayer Breakfast at Stetson University, where he met every Friday for 30 years, and Fellowship of Companies for Christ.
A special ministry dear to his heart started in 1983, when Frank was led to get the gospel shared to India. Through his partnership with Jesus for India, Frank purchased a printing press to print the Gospel of John, which is still in use today.
Faith was Frank's anchor, and from there, everything else flowed. He lived his life with Jesus, generosity, kindness and love, which were the hallmarks of his life. He will be dearly missed, but his legacy will last for lifetimes.