5 Easy Ways to Freshen Up your Home
May 18th, 2021
While most of us have already gotten our spring cleaning out of the way, this yearly activity isn't the only way to freshen up your home. We love to spend as much time out on our farm as possible, but the Environmental Protection Agency says on average Americans spend 93% of their time indoors! Though it's definitely important to spend as much time outdoors as you can, there are a few ways to help bring the outdoors inside, which can help freshen up any home!
If you're looking to enjoy the time you spend indoors even more, refreshing your space is one of the best ways to do so. Here are some of our favorite tips for bringing a little more joy indoors.
Bring Live Plants Indoors
The easiest way to instantly freshen up your home is with indoor plants and flowers. Greenery has been shown to provide a lot of science-backed benefits when enjoyed indoors. So a nice bouquet of flowers or a flowering lemon tree can go a long way. If you're not sure where to start with indoor plants, start small. Succulents are usually a great option for people that aren't known for their green thumb and peace lilies will also thrive indoors with the right amount of sunlight and water.
Update Your Walls
A fresh coat of paint goes a long way when looking to freshen up your home. Over time your walls can become scuffed or dirty, so some new paint can help your home feel as good as new. For a natural feel, consider adding in naturally inspired colors. Greens, yellows, and blues, as well as neutral colors, can help create an inspiring indoor space.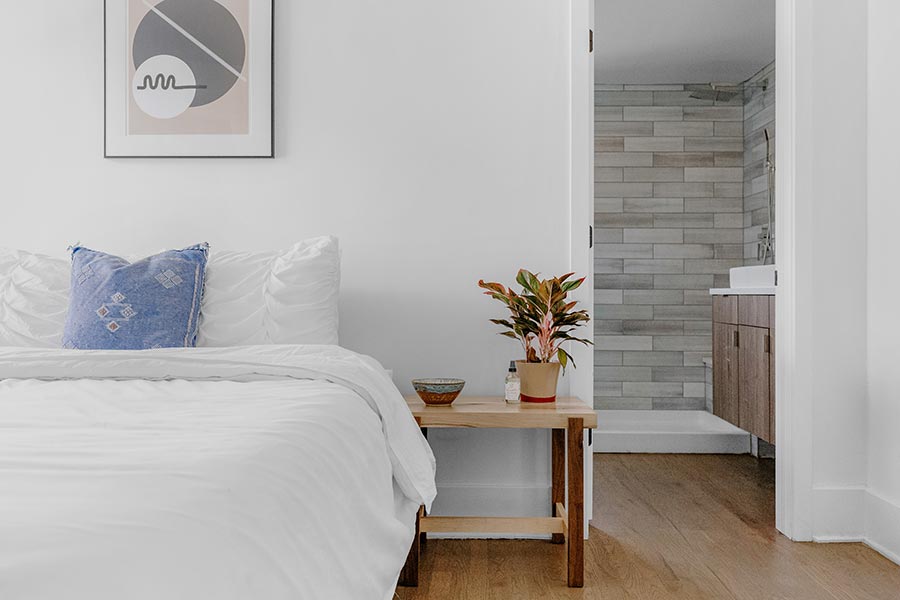 Revamp Your Furniture and Decor with Natural Fabrics and Textures
Utilizing linen, cotton, jute, hemp, wool, and silk in your indoor space can help bring a touch of the outdoors indoors. If you have kids or pets running around your home, it's likely your furniture has taken a beating over the years. While purchasing new furniture can get a little bit expensive, buying a high-quality furniture cover or just a few new throw pillows can really help elevate your space.
Use Decor Elements Found In Nature
Another great way to bring the outdoors inside is to use elements of nature in your decor. Things like seashells, dried flowers, and even pinecones can add a natural feel to your home. If you like a beachy feel, you can use things like driftwood, jars of sand, or even our Coastal Breezes wreath. For a forest feel, you can use elements like oak and water elements. 
Bring In More Natural Light
Natural light can work wonders for any space. From helping a space feel bigger to boosting your mood, a little natural light can go a long way. You can bring more natural light in by switching out your heavy curtains for some lighter-colored or sheer ones. Adding reflective surfaces like mirrors or glass tiles into a space can also help reflect some of the natural light that is already there. If you really want to bring in more light, consider replacing old windows or even installing a skylight.
Whether you decide to completely revamp your space or just make a few changes, we hope these tips will help you freshen up your home this spring!