5 Ways To Decorate a Small Front Porch for Christmas
December 1st, 2021
Decorating for Christmas is one of the best ways to get in the holiday spirit. Some people love to cozy up by the fire, listen to Christmas music and focus on decorating inside, while others prefer to throw on their winter jacket and their snow boots and decorate outside. One of our favorite places to decorate for Christmas is our front porch because we love being greeted by the holiday spirit every time we come home.
But, today we wanted to specifically share how to decorate a small front porch for Christmas. If you have a smaller front porch you might feel like you can't get in on all of the fun, but we've learned a lot of fun ways to decorate small porches over the years. That being said, all of these tips can be used on bigger porches as well so anyone can learn from this list of Christmas porch decorating tips!
Create an Eye-Catching Centerpiece with a Fresh Wreath
Your front door is a great place to start when decorating a small porch. This will likely be the focal point of your small porch decorating so it's important to focus on the front door. A fresh wreath makes a wonderful foundation for any Christmas decorating because it works great on its own, but it can also pair with other decorations.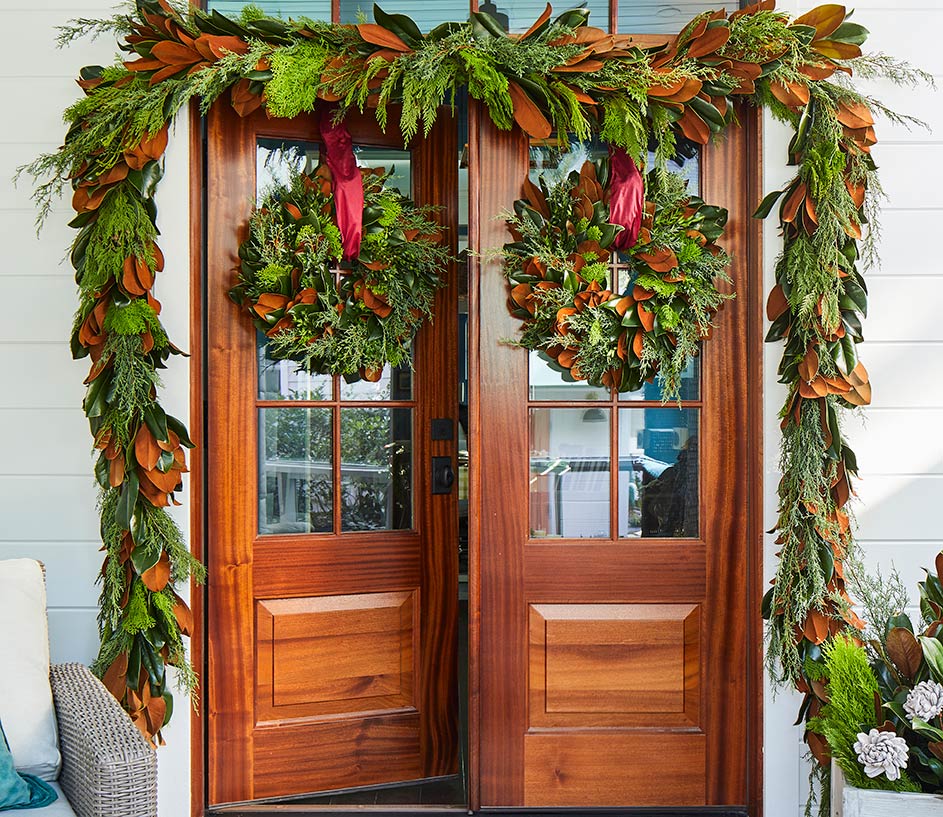 This year our Magnolia Elegance Wreath has been one of our favorites for its classic style and classy colors. If you're looking for something that could be the star of the show, our Merry & Bright Wreath (discontinued) makes a great option with its glistening silver-hued magnolia pods and complimenting ornaments.
Finally, if you're looking for something a little more subdued that can easily pair with other decorations, our Fresh Bunches Wreath could be a great choice for you.
Bring Everything Together with a Garland
Adding a garland can be one of the easiest ways to level up your holiday porch design. On a really small porch, you can just use your garland to frame your front door. If you have a little more space, you can wrap it around your banister. A fresh garland will tie in perfectly with your fresh wreath. Depending on your style, you can choose a garland to match your wreath, like our Magnolia Elegance Garland (discontinued) or switch things up and try another type of fresh garland like a pine garland or a Fresh Boxwood Garland. 
Use the Greenery You Already Have
We're going to hop off the porch for a second and move our focus to whatever is right next to or in front of your front porch. If you have a small fronch porch, you can create the illusion of an even more incredible Christmas set-up by expanding your porch decor onto the greenery you already have. If you are using Christmas lights to frame your front door, you can also use the same lights to wrap the trees that frame your front porch or the bushes that are right in front of it.
Focus on The Little Things
When decorating a small porch for Christmas, the little things can go a long way. Think about switching out your doormat to something Christmas themed or adding a little Santa Claus statue right next to your front door. Have fun with the holiday accessories and don't be afraid to get creative!
Create a Cozy Space By Bringing Some Inside Decor Outside
Having a small front porch might mean less space to decorate, but it can also be perfect for crafting a truly cozy holiday feel. From candles to pillows to a textured throw, a little bit of warmth will make a big difference on a small porch. If you have a covered porch, you can bring just about anything you would use inside, outside. But, if your porch is completely defenseless to the elements, you might want to consider some hardier decor pieces.
Overall, when it comes to a small porch, the more the merrier. Just because you have a small front porch doesn't mean you have to miss out on all of the Christmas decorating fun. If you have any questions about our products or our home decor tips, you can contact us here.