There are a lot of benefits to getting a live wreath for your holiday decorations. The sharp, sweet, and refreshing smell of fresh wreaths decorated with pine, spruce, and fir tree branches will add the Christmas spirit to any home. Magnolia wreaths, as well as other fresh wreaths, will add a bright green pop and lovely texture to any room or front door, plus they're environmentally friendly. But since these beautiful wreaths won't stay fresh forever, we want to answer one of the most commonly asked questions, which is how to keep your live wreaths fresh for longer. Keep reading to learn our top secret, best ways to keep your live wreaths fresh!
Wreath Care Tips
How do you keep a fresh wreath from drying out?
While you can't keep a fresh wreath from drying out forever, you can certainly keep it from drying out as quickly. Firstly, buy as fresh and lush as possible. If you are looking at a wreath and it feels lighter and appears dry, it's most likely old and could have been made many weeks ago. If you can take a big whiff of the wreath, it should smell fresh-cut. Think of what a fresh-cut Christmas tree smells like. Wreaths you see that are made of firs and cedars should smell similar.
If the wreath seems dry in the store, there is another surefire way to see if it's fresh. You can give it a good shake. If you shake the wreath and the falling needles remind you of a rainstorm, we would recommend you pass on this one because you will not be able to bring that old wreath back to life.
The Magnolia Company follows strict quality control procedures from our farm. We ensure that all of our magnolia wreaths, garlands, bunches, and other decorations are fresh cut and handled with care throughout fabrication and shipping as not to damage the merchandise. This care starts with our freshly harvested magnolia, which is protected through our hand fabrication processes, then carefully packaged and shipped immediately. We have no long term storage on our farm as it's all fresh cut.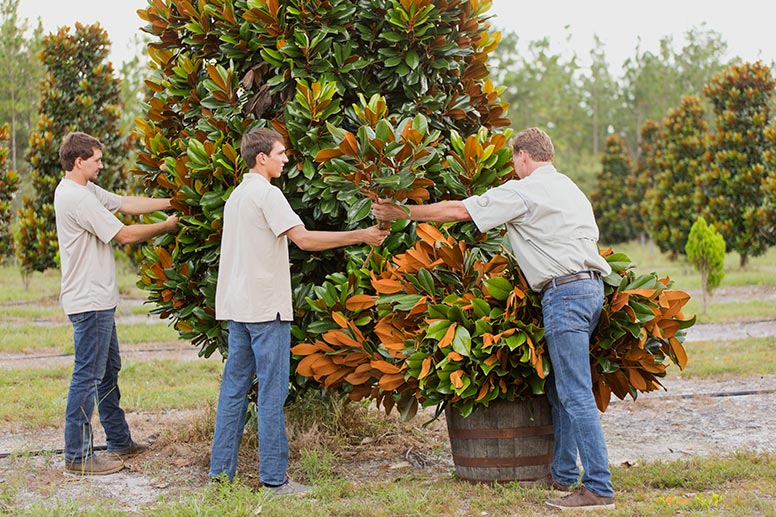 Harvesting Fresh Magnolia Leaves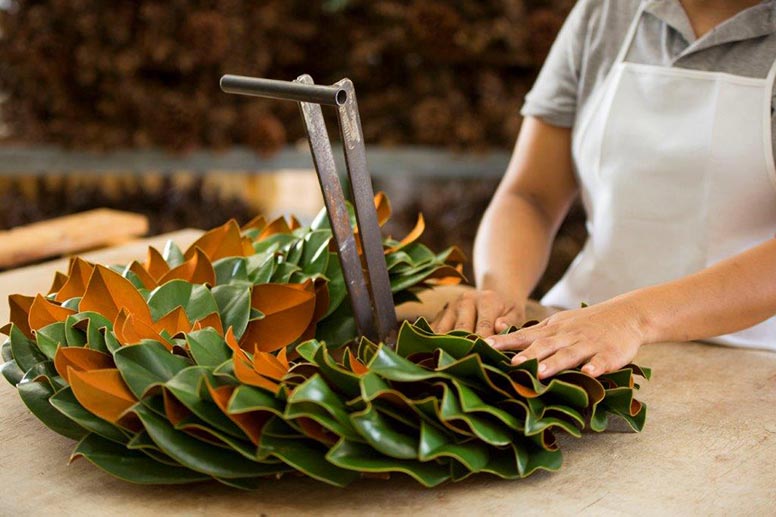 Making Fresh Magnolia Wreath
That being said, there are many independent garden centers and specialty retail garden and gift stores that, for us, do a great job at providing fresh merchandise. We serve many of the highest quality stores, which are always a great place to find fresh wreaths. Our website and other farm-to-web-to-consumer businesses do an excellent job of providing a fresh product.
Secondly, you can keep your wreath fresh for longer by being mindful of where you place it. If a wreath is hung in full sunlight with no overhang, it will brown out quickly. If the sun is even strong enough, live wreaths can go from fresh to browning very fast. This browning is not that common, but it will be hard to stop the premature browning in full sunlight. The most common premature drying is caused by the wreath being hung indoors with the heater and fireplace heating up the room with dry air. It can be expected for wreaths to dry in these indoor areas in about 7 to 14 days if no wreath care is taken to protect your wreath.
Do you have any other tips to make my live wreath last longer?
Yes, yes, yes! You can water your wreath to protect it when it is indoors. My favorite way is to use a small 16-24 oz spritzing water bottle to mist it generously three times per day. If you can only do this before and after work, this will work also. In our home, we like to mist our wreaths in the morning, around 1:00 pm, and then again at the end of the day.
Misting most definitely helps stave off premature drying, which leads to browning. Caring for our wreaths is something that is really important to us, which is why we include a hand-tied care card with each and every product. Crafting these care cards gives us a small daily moment to reflect on the year and our blessings. But, overall, the misting is a big help. Just try to avoid misting during freezing temperatures.
One last tip that really works is if a client wants to take the time to cover the wreath at night. I recommend misting the wreath and covering the face of the wreath with a lightweight plastic bag, like a glad trash bag. You can simply tuck it around the outside of the wreath and keep it hanging. It keeps the misted water on the surface of the wreath at night. In the morning, take the bag off and mist it again. Do this each day, and it'll make a huge difference. It will add many days of freshness. For us, it really works.
What is the best greenery for wreaths?
Wreaths are composed of different greens, but some of the more commonly used greens are from the evergreen family. These are conifers, including the following from the Pacific Northwest – Noble Fir, Douglas Fir, Incense Cedar, Port Orford Cedar, Western Red Cedar, and Juniper. There are also Midwest and East Coast Evergreens – Fraser Fir, Eastern Hemlock, Eastern White Pine.
In the Mid-Atlantic and Southern states, there are other greens like American Boxwood, Gold Tipped Arborvitae, Eastern Red Cedar, Arizona Cypress (silver-blue tint), and our favorite Southern Magnolia. We spent the better part of two decades selecting out the best cultivars of Southern Magnolia that have unique leaf features, including a vibrant copper color with a velvet texture on the leaf's underside. These magnolias are beautiful when dry and age with a natural patina of green and copper hues.
Cedar wreaths are great because they don't have needles that could make a mess in your home, but they still smell lovely and invoke the Christmas spirit. Boxwood wreaths are classic holiday wreaths that will add a classy touch to any front door or mantle, plus they dry to a beautiful golden yellow. Of course, we have a slight bias for our Magnolia wreaths because of their vibrant green and copper coloring. A simple Magnolia wreath is also versatile since it can be decorated for the holidays and then be used year-round.
What makes The Magnolia Company wreaths different from other fresh wreaths?
The main thing that makes our wreaths different from other wreaths is the difference in the quality of the greens harvested. Over the years, we've had many clients tell us how there is just no comparison to our fresh cut magnolia. There is a reason for that that spans the whole year.
We provide diligent care throughout the year no only by taking advantage of our beautiful natural conditions but also by providing care from pests, fungus, and storms that can cause unsightly damage. This expert care makes our crops beautiful during harvest. We are sure other farmers battle the same elements. We can only tell you how many conversations we've had around the dinner table about our challenges from Mother Nature. In the end, though, we love what we do and can't imagine doing anything that is more rewarding. Our farm is filled with these beautiful magnolia groves with abundant natural fauna and flora present.
How long do real wreaths last outside?
How long a live wreath lasts depends on a lot of factors. Firstly, it'll depend on how old your wreath was when you got it. If your wreath already seems a little dry, it might only last a week. Luckily, with The Magnolia Company, all of our wreaths are freshly cut and shipped within days, so you know you're getting the freshest wreath possible.
Our magnolia wreaths will stay fresh for three weeks when they're outside in the cool air and seven to fourteen days when they're inside your heated home. Our boxwood wreaths and cedar wreaths last about the same amount of time. Again, by misting your wreath and covering it at night, you'll be able to increase the amount of time that your wreath stays fresh.
The great thing is that our magnolia wreaths still look beautiful when dried, and most of our customers use their wreaths for at least four years. Some people even prefer the dried magnolia wreath look. If you want to see how our wreaths look after one month, click here to learn more about the drying process. If you love the look of a fresh magnolia wreath and want it to last even longer, we have a dried, lacquered magnolia wreath that will look fresh for years.
Does wreath preservative spray work?
There are several leading anti-transpirant preservative sprays, including Wilt-Pruf Anti-Transpirant Plant Protection Spray. We've had people tell us about their success with them, but we have always wondered if it was more because they were using it on wreaths that were fresher than wreaths they'd had in the past. Unfortunately, we personally have not had a lot of success with these sprays.
If you have any more questions about how to keep your wreath fresh, feel free to reach out to us by clicking here. We are always more than happy to help out someone in our community.