Magnolia-Inspired Fall Porch Decor Inspiration
October 18th, 2022
The crisp fall air, crunching leaves, and the smell of freshly baked cakes, pies, and breads, are just a few things that remind us of fall. Although the feeling of fall takes a little longer to arrive at our farm in Florida, we cherish each moment nonetheless. But one of our favorite ways to evoke the feeling of fall is to decorate our front porch with magnolias.
Whether that be with a fresh magnolia garland or a fall wreath, there are so many options for fun fall porch decor. But all of these wonderful options can be both a blessing and a curse because it can be difficult to choose what options we like best. So in order to provide you with some extra inspiration, we wanted to share some of our favorite magnolia-inspired porch designs.
Classic Magnolia Wreath and Garland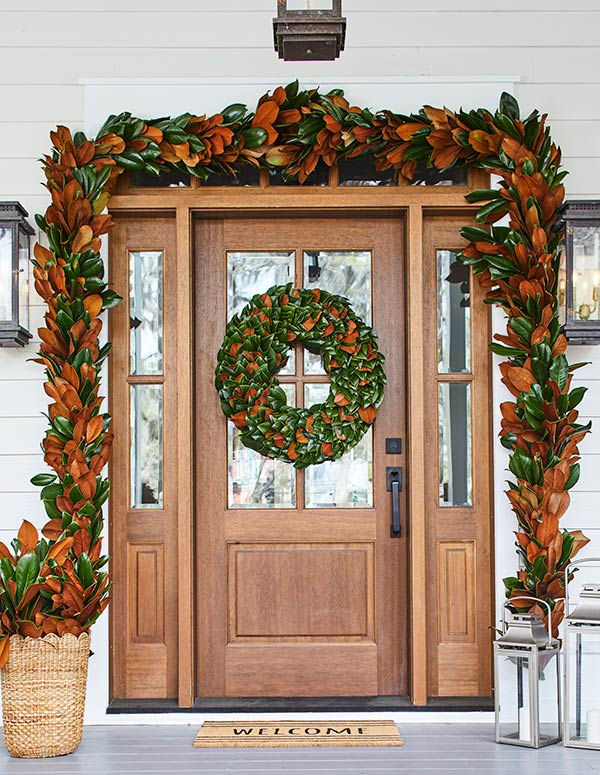 Simple, but classic, this magnolia wreath, garland, and planter add shine and beauty to this front porch. A lovely option for those searching for porch decor that can easily transform from back to school to halloween to Thanksgiving all the way to Christmas.
Magnolia Garland and Pumpkins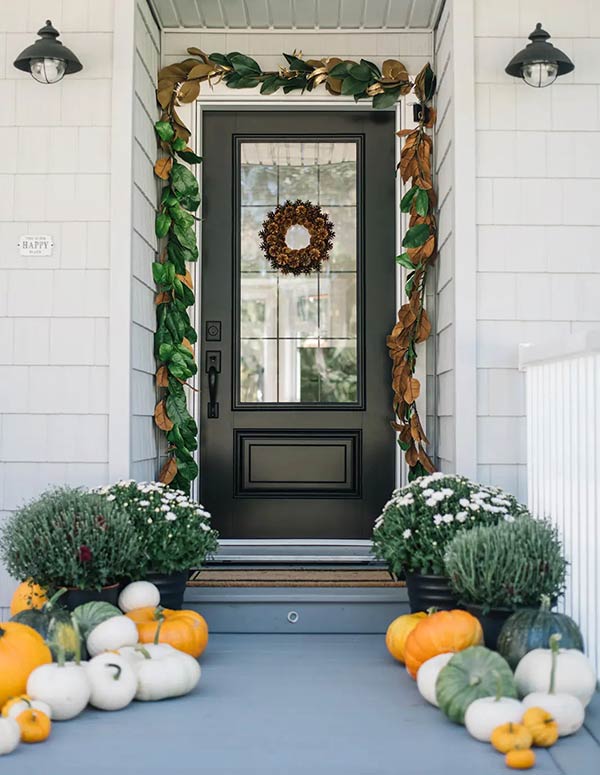 If you're looking for something with some more autumnal themes, this decorator does a great job of mixing a magnolia garland with their kaleidoscopic array of pumpkins and a fall wreath.
Magnolia Planter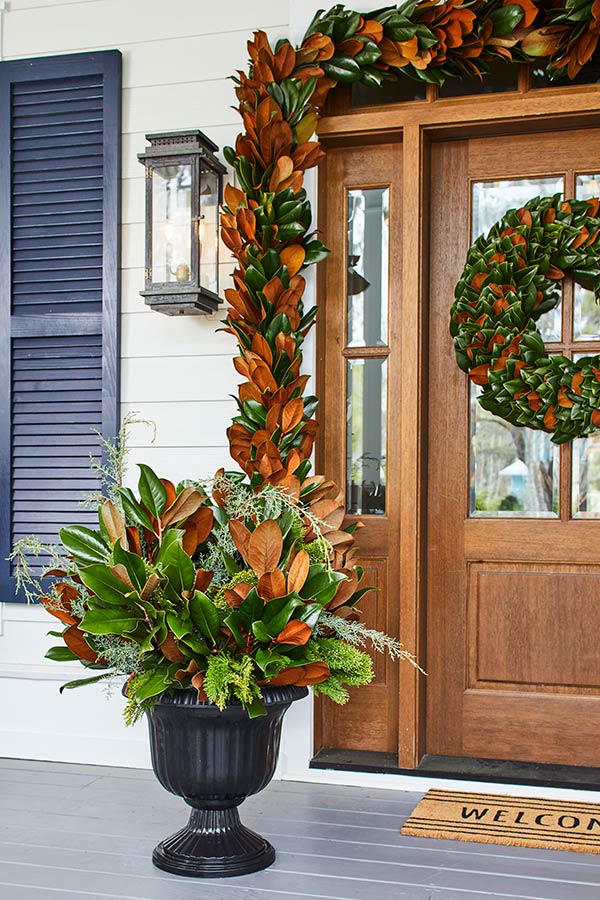 If you enjoy filling your planters with greenery or designing a container garden, magnolia branches are a wonderful choice for fall. It takes a simpler fall porch design to the next level by drawing your eyes to this hand-designed beauty.
Upgrade Your Planter with Pumpkins
This decorator brings even more fall feeling to their planter by adding yellow-hued flowers and a few pumpkins. Nothing else on this porch specifically speaks to fall, which just shows how one well-designed item can completely change your front porch from summer to fall.
Personalized Magnolia Wreath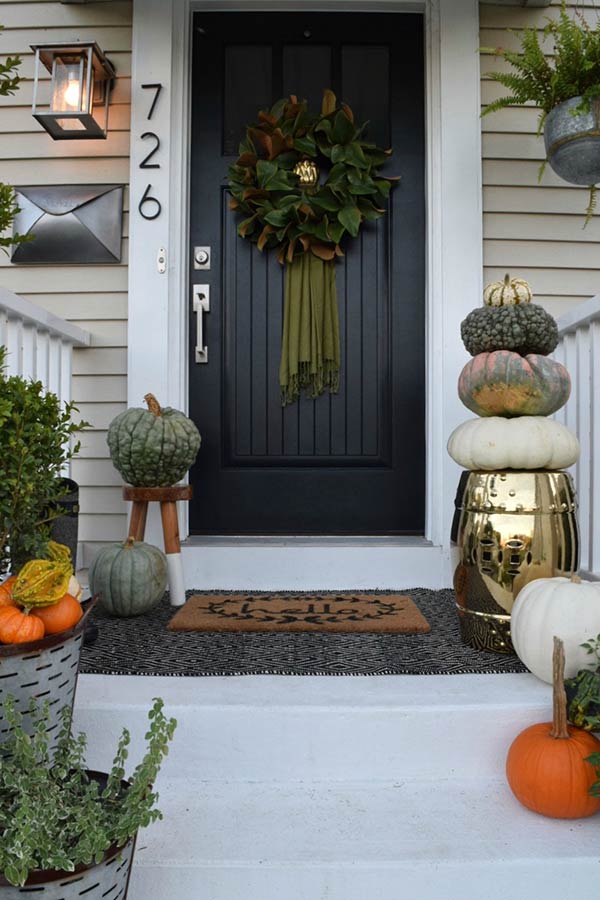 You can even choose to dress up your magnolia wreath to your own taste. Here, the decorator added a blanket scarf behind their wreath for a pop of color and to protect the door.
Double Magnolia Garland
If you really want your porch to shout "magnolia" to the rooftops, carry your magnolia garland all the way from your porch to your front steps. This design will instantly upgrade your curb appeal all while evoking the warm and coppery tones of fall.
Magnolia Steps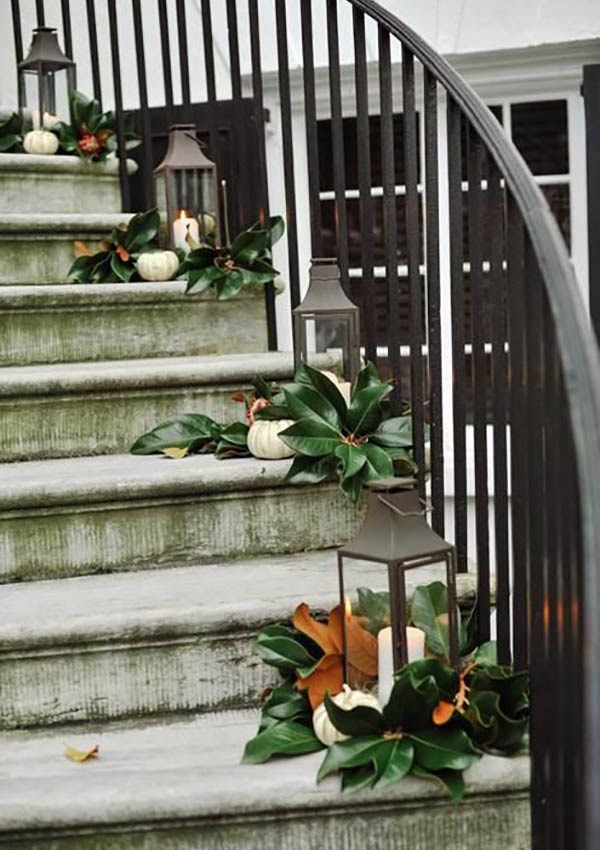 For something a little more lowkey, you can also bring magnolia to your front steps with a few individual magnolia branches or leaves. This designer added a few white pumpkins and lanterns to add warmth and a touch of classic fall decor.
Orange Magnolia Wreath and Pumpkins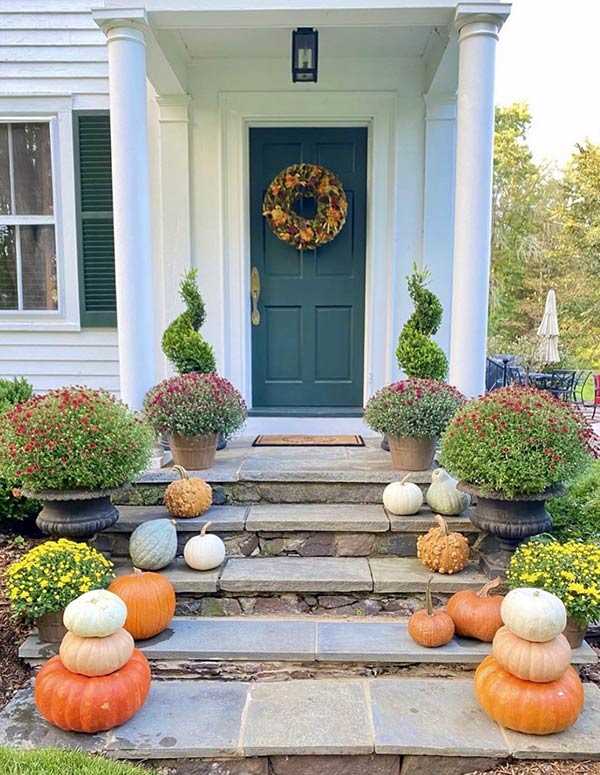 Classic orange hues never disappoint when crafting your fall porch decor. Here, the designer chose a magnolia wreath with burnt orange accents in order to play off the multi-hued orange pumpkins making their way up the steps.
Keeping it Simple With a Magnolia Wreath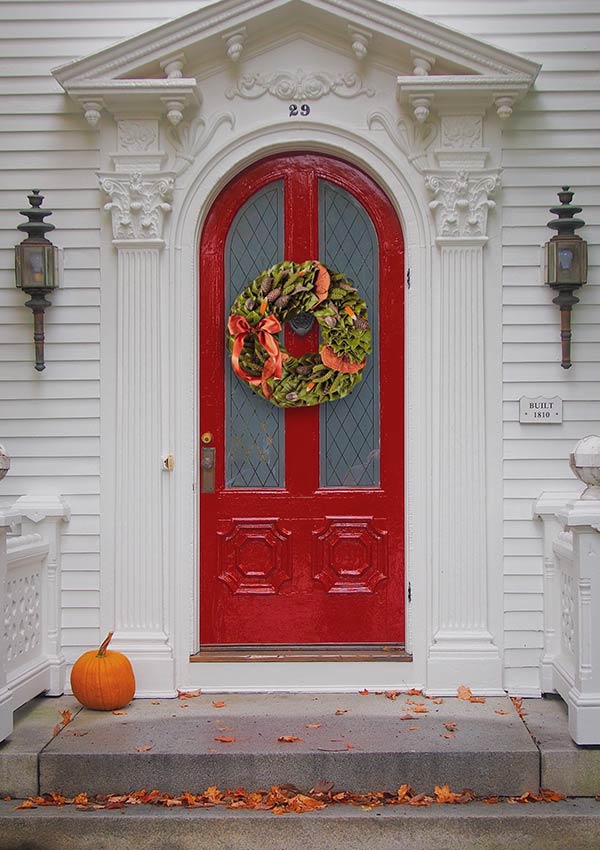 If you can't empty your nearest pumpkin patch, one pumpkin, a magnolia wreath, and a few stray leaves can still be enough to create a classic fall front porch. The orange ribbon and mushrooms play off the other colors to harmonize the different design elements.
More Wreath Options
By far the simplest way to add autumnal themes to your fall front porch is by adding a fall wreath. With just one decor piece, your entire porch will be transformed.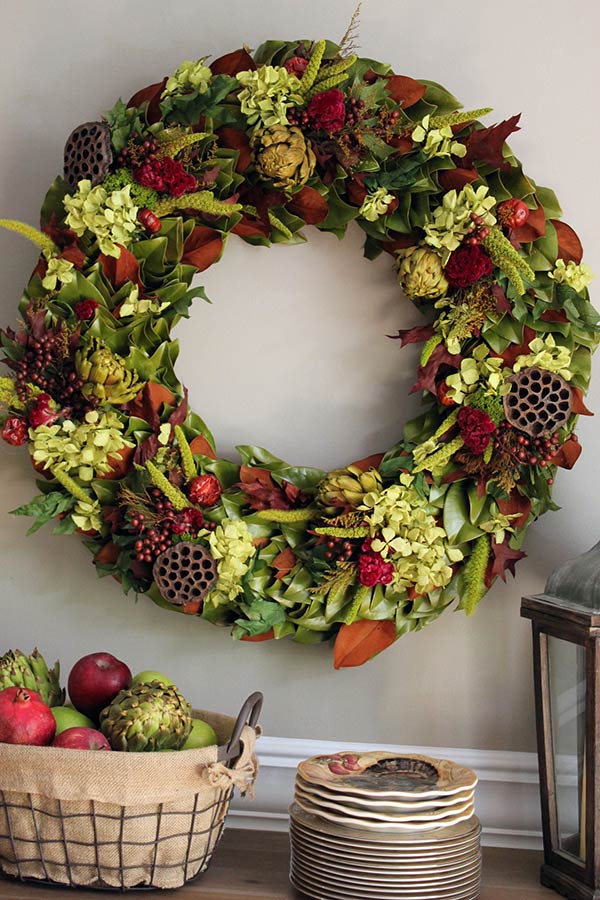 If you're searching for something that would work well in both the end of summer and the fall, choose a wreath that contains more summery elements like flowers as well as fall elements like seed pods.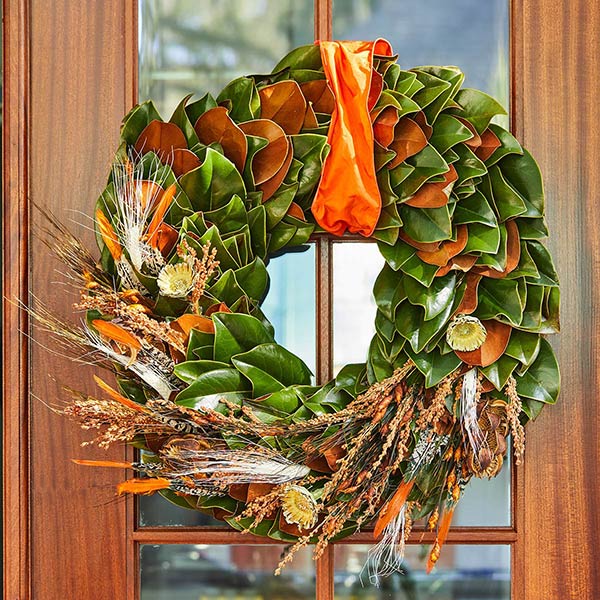 Finally, you can never go wrong with adding a fall wreath to your fall porch decor that is filled with burnt oranges, bright yellows, and deep reds. These colors echo the colors we find in nature each fall, which means it'll work well in any environment and can be easily paired with other decor pieces.
No matter how you choose to decorate your front porch, remember to have fun with it. Your front porch will always turn out perfectly because it's unique to you.