The Best Places to Hang a Wreath at Home
September 27th, 2021
If you're reading this, it's likely you have a beautiful wreath in your possession that you'd love to hang up somewhere. Since you already went through the process of choosing the best wreath for you, we wanted to share some of the best places to hang a wreath in your home. Decorating your home can be one of life's little pleasures and we'd love to help you decorate it to perfection.
Front Door
Let's start with one of the most common places to hang your wreath: your front door. The front door is a magical place to hang your wreath. Everyone from your mailman, to passing neighbors, to family visiting from out of town will be greeted by your wreath as soon as they see your home. It's also a wonderful way to outfit your home for the changing seasons.
That being said, when you hang your wreath on your front door, it's not in a place where you always get to enjoy it, which is something to think about. Also, be aware of weather conditions because certain wreaths won't fare well in storms or really windy days. Our dried wreaths, for example, are better off safe in the comfort of your home.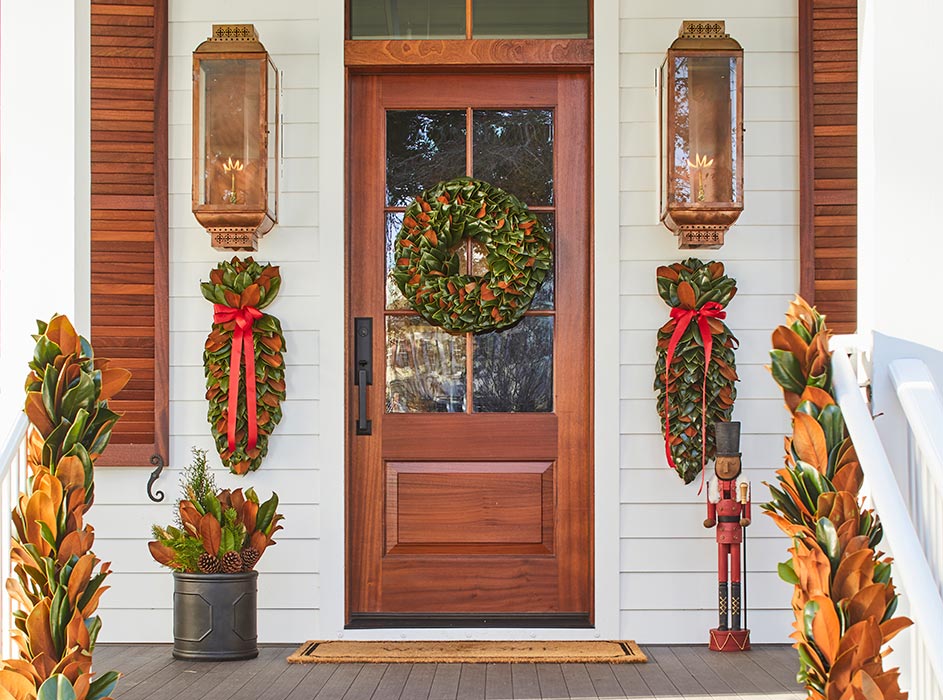 Centerpiece
One of the most unique places to place your wreath is on your dining room table. Wreaths can make wonderful centerpieces, especially around the holidays. Consider adding a few candles or other home decor items in the middle to create a truly special table design. If a wreath as a centerpiece isn't what you were thinking, we also offer centerpieces like our stunning Turkey Pheasant Centerpiece.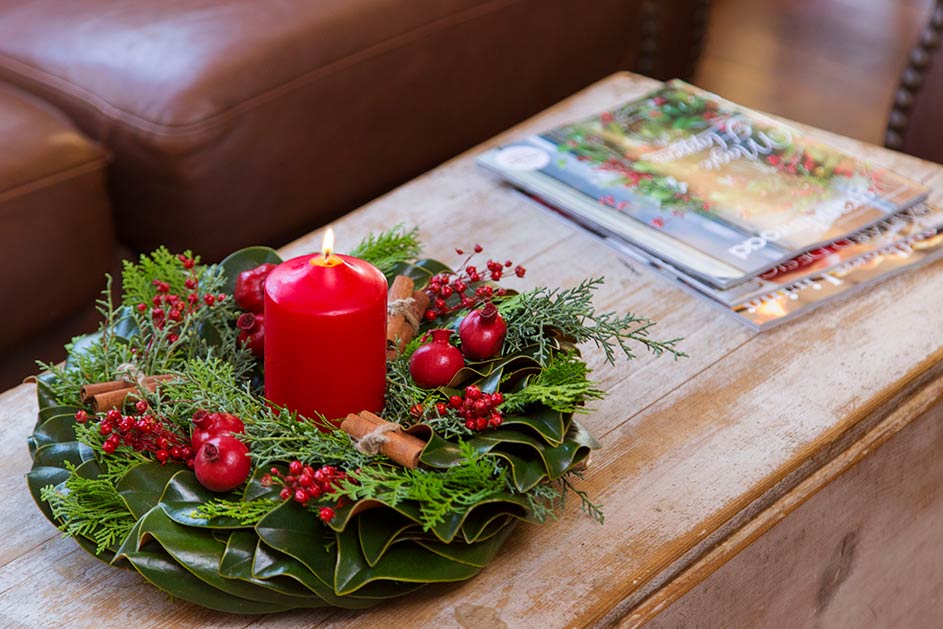 Foyer
Like the front door, the foyer is a great place for your wreath as it will be there to welcome all of your guests. Centered above any furniture in a foyer, a wreath will add a pop of color and texture to the space. Plus, it's a great way to help your foyer feel like its own unique space in your home. We think our Greenery & Velvet wreath would be a subtle, yet beautiful addition to a foyer wall.
Mantle
Another wonderful place for a wreath is above your mantle. Since the living room is one of the places we spend most of our time, hanging your wreath above your mantle will ensure you enjoy its beauty throughout the day. Plus, when shopping for a holiday wreath, the mantle makes a great spot to pair with other holiday decorations.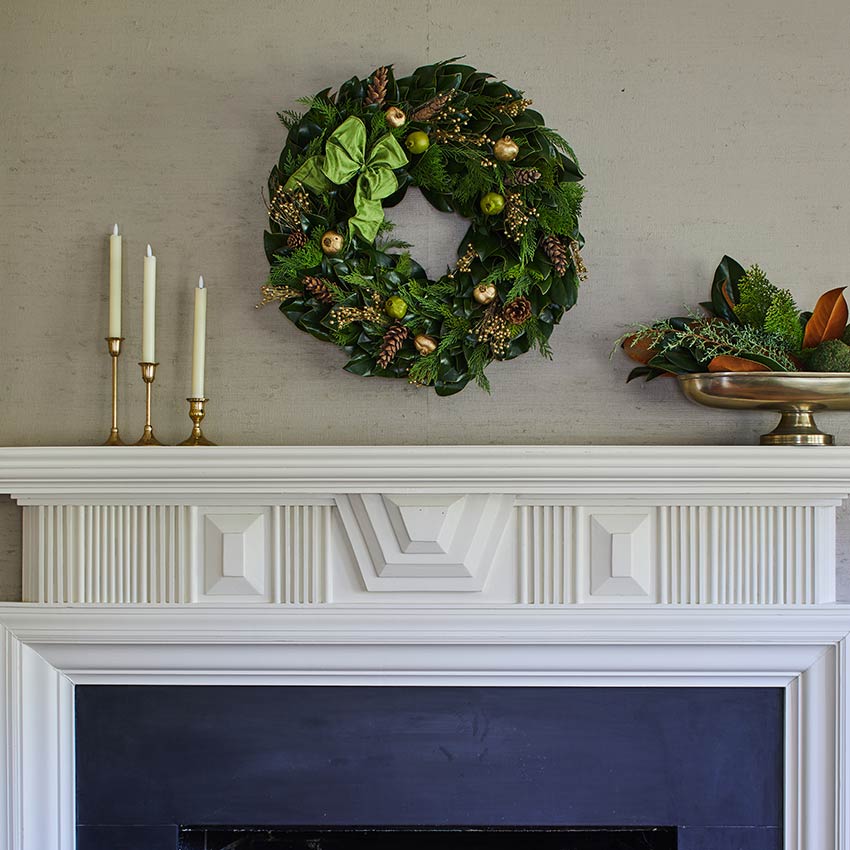 Kitchen
Another one of our favorite places to hang a wreath is in the kitchen. Just like the living room, the kitchen is one of the most frequented rooms in the entire house. Since natural decor, like wreaths, is known to freshen up any space, it can add a little extra something to a room that isn't always the easiest to decorate. Wreaths in the kitchen can look great above the stove (as long as they're not too close to any open flames), hanging on a back/side door, or above the kitchen sink.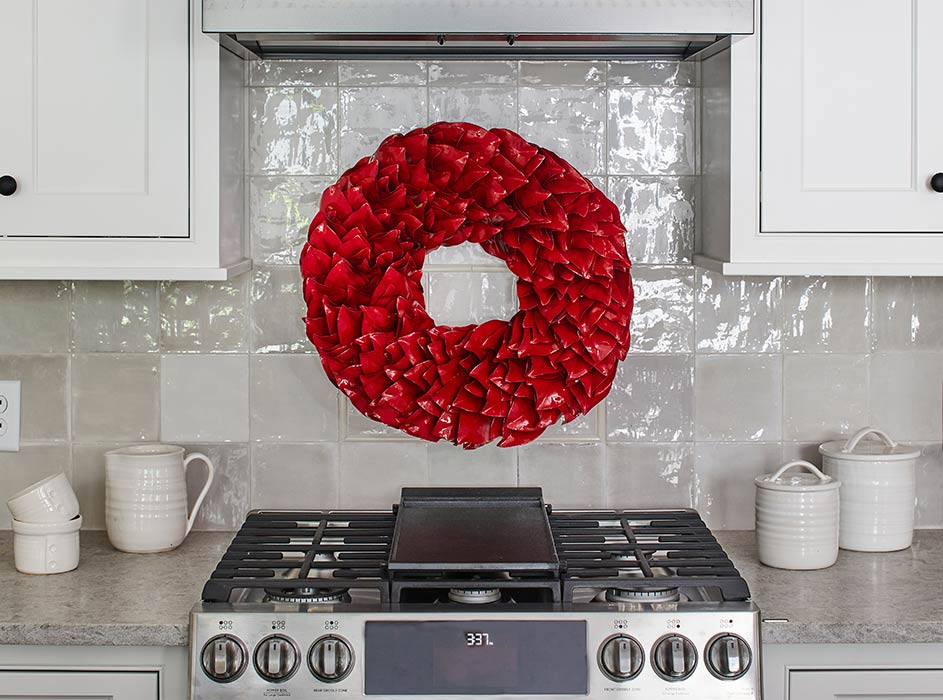 No matter where you choose to put your wreath, we are sure it will look beautiful hanging in your home. If you have any questions, feel free to contact us here.